The chaos of standing still  by Jessica Brody
Published by Simon Pulse (November 28, 2017)
Genres: Young Adult , Contemporary
Pages: 411
Format: Hardback
Source: Libary
Challenge: Beat the backlist book # 2
goodreads  Amazon  Barnes and noble
I would give this book 4 for a review.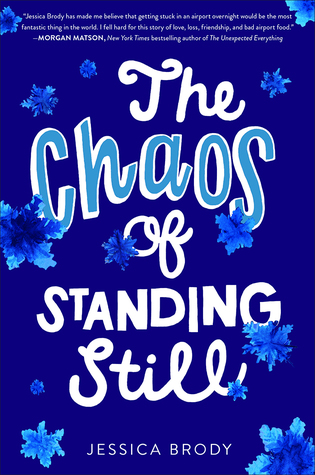 Summary
"Jessica Brody has made me believe that getting stuck in an airport overnight would be the most fantastic thing in the world. I fell hard for this story of love, loss, friendship, and bad airport food. I loved it!" —Morgan Matson, New York Times bestselling author of The Unexpected Everything
Over the course of one chaotic night stranded at the Denver airport, Ryn confronts her shattered past thanks to the charm of romance, the uniqueness of strangers, and the magic of ordinary places in this stunning novel from the author of Boys of Summer.
Ryn has one unread text message on her phone. And it's been there for almost a year.
She hasn't tried to read it. She can't. She won't. Because that one message is the last thing her best friend ever said to her before she died.
But as Ryn finds herself trapped in the Denver International Airport on New Year's Eve thanks to a never-ending blizzard on the one-year anniversary of her best friend's death, fate literally runs into her.
And his name is Xander.
When the two accidentally swap phones, Ryn and Xander are thrust into the chaos of an unforgettable all-night adventure, filled with charming and mysterious strangers, a secret New Year's Eve bash, and a possible Illuminati conspiracy hidden within the Denver airport. But as the bizarre night continues, all Ryn can think about is that one unread text message. It follows her wherever she goes, because Ryn can't get her brialliantly wild and free-spirited best friend out of her head.
Ryn can't move on.
But tonight, for the first time ever, she's trying. And maybe that's a start.
As moving as it is funny, The Chaos of Standing Still is a heartwarming story about the earth-shattering challenges life throws at us—and the unexpected strangers who help us along the way.
My Thoughts:
I really enjoy books that take place over the course of one night and especially when they are "trapped" somewhere. I grew to enjoy the main character. Being in this character head took some getting used to but she grew on me. I thought how both grief and depression was handle in this book was super well done. It made me not only feel for the character but also go through my own emotions seeing the various timelines in this book. This book also had various mysteries that kept me engaged and fun cast of characters that I loved meeting in the pages. It was def. a more emotional read but def worth it especially if you are dealing with cold and snowy weather. If you like Katie Mcgary books, this book would be right up your alley!
Later book lovers!