Before She ignites  by Jodi Meadows
Published by   HarperCollins Publishers on September 12, 2017
Genres: Young Adult, Fantasy
Pages: 496
Format: Hardback
Source: Owlcrate* Mystical creature box*
amazon barnes and nobel  Goodreads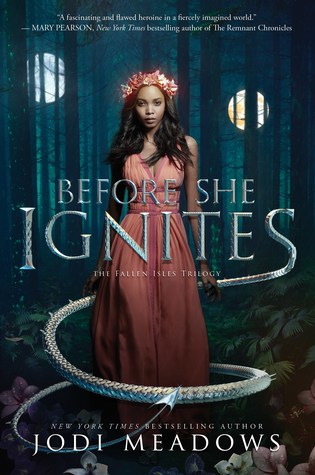 I would give this book 5 for a review.
Summary
From the New York Times bestselling co-author of My Lady Jane comes a smoldering new fantasy trilogy perfect for fans of Victoria Aveyard and Kristin Cashore about a girl condemned for defending dragons and the inner fire that may be her only chance of escape.
Mira has always been a symbol of hope for the Fallen Isles, perfect and beautiful—or at least that's how she's forced to appear. But when she uncovers a dangerous secret, Mira is betrayed by those closest to her and sentenced to the deadliest prison in the Fallen Isles.
Except Mira is over being a pawn. Fighting to survive against outer threats and inner demons of mental illness, Mira must find her inner fire and the scorching truth about her own endangered magic—before her very world collapses.
And that's all before she ignites.
My Thoughts:
I really loved this book so much. I was captured from page one. I loved the duel time lines we got also the presence of both dragons in this society. This book was so hard to predict and I had a hard time putting it down. I loved all the characters that we meet and was so invested in both dragons and the humans. I was so fascinated by the political stuff and loved what we learned about the lead girl it went in a very different direction then I predicted and Now i need book 2! If you like fantasy books, I would rec. this book for you.