So I always buy or find books I want to buy even after I went to book con. It is like a dangerous addiction but something that I love.
Here are some of the books that I bought (will have a star next to them) or just heard about and very excited to get my hands on!
Dragonwatch by Brandon Mull ( I bought this *)
I loved the books in the fable haven series! I love the characters and love the world that was created. I hope to read this book soon and fall back into adventures with Seth and Kendra!
2.  Unbreakable by Kami Garcia ( * I bought this)
I have never read anything by this author but this small summary really seemed cool to and me and had to be bought for the 1.00 at the dollar tree.
When Kennedy Waters finds her mother dead, she doesn't realize that paranormal forces are responsible–not until mysterious identical twins Jared and Lukas Lockhart break into her room and destroy a deadly spirit sent to kill her.Kennedy learns that her mother's death was no accident, and now she has to take her place in the Legion of the Black Dove–a secret society formed to protect the world from a vengeful demon. A society left in the hands of a misfit group of teens with unique skills: Jared, combat trained, with a temper to match; Lukas, rogue hacker and code breaker; Alara, whose attitude is as powerful as her voodoo protections; and Priest, an engineer capable of making a weapon out of a soda can.As the teens use their individual talents to battle paranormal entities, they earn their rightful places in the Legion–except for Kennedy, who is left wondering if she is truly one of them.Can she stay alive long enough to find out–without losing her heart in the process? Protect Yourself. What you can't see CAN hurt you.
3. Loki's Wolves by K.L Armstrong & M.A Marr  ( I bought this *)
I really love middle grade mythology and was so excited to find this for 1.00 at the dollar tree. I thought the summary bellow sounds adorable!
Matt hears the words, but he can't believe them. He's Thor's representative? Destined to fight trolls, monstrous wolves and giant serpents…or the world ends? He's only thirteen.
While Matt knew he was a modern-day descendent of Thor, he's always lived a normal kid's life. In fact, most people in the small town of Blackwell, South Dakota, are direct descendants of either Thor or Loki, including Matt's classmates Fen and Laurie Brekke. No big deal. But now Ragnarok is coming, and it's up to the champions to fight in the place of the long- dead gods. Matt, Laurie, and Fen's lives will never be the same as they race to put together an unstoppable team, find Thor's hammer and shield, and prevent the end of the world. In their middle grade debut, K.L. Armstrong and M.A. Marr begin the epic Blackwell Pages series with this action-packed adventure, filled with larger-than-life legends, gripping battles, and an engaging cast of characters who bring the myths to life.
4. Witch Child by Celia Rees ( I bought this *)
I really love witch novels and this novel seemed really interesting see summary bellow!
When Mary sees her grandmother accused of witchcraft and hanged for the crime, she is silently hurried to safety by an unknown woman. The woman gives her tools to keep the record of her days – paper and ink. Mary is taken to a boat in Plymouth and from there sails to the New World where she hopes to make a new life among the pilgrims. But old superstitions die hard and soon Mary finds that she, like her grandmother, is the victim of ignorance and stupidity, and once more she faces important choices to ensure her survival. With a vividly evoked environment and characters skilfully and patiently drawn, this is a powerful literary achievement by Celia Rees that is utterly engrossing from start to finish.
5. Lucky in Love by Kassie West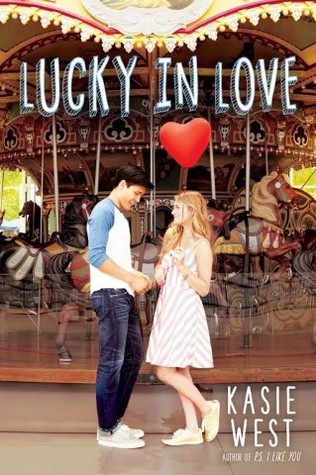 This book is not out yet but sounds like the prefect summer romance read! The summary has me so excited!
Maddie's not impulsive. She's all about hard work and planning ahead. But one night, on a whim, she buys a lottery ticket. And then, to her astonishment —
She wins!
In a flash, Maddie's life is unrecognizable. No more stressing about college scholarships. Suddenly, she's talking about renting a yacht. And being in the spotlight at school is fun… until rumors start flying, and random people ask her for loans. Now, Maddie isn't sure who she can trust.
Except for Seth Nguyen, her funny, charming coworker at the local zoo. Seth doesn't seem aware of Maddie's big news. And, for some reason, she doesn't want to tell him. But what will happen if he learns her secret?
With tons of humor and heart, Kasie West delivers a million-dollar tale of winning, losing, and falling in love.
What book to do you all think I should tackle first? Comment bellow and tell me why!
Later Book Lovers!